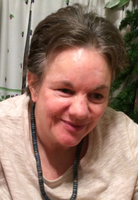 Debbie J. Corbin
Debbie J. Corbin, 61, of Rochester, PA died Tuesday, August 22, 2017 in Heritage Valley Beaver.
Born November 13, 1955 in Beaver Falls, PA, Debbie has been a resident in HAP (Help A Person) program since 1980. She enjoyed numerous activities at many local churches and since 1976, she had been employed at the Beaver County Rehabilitation Center. The family wants to give a special "Thank You" to the staffs of both HAP & BCRC for the care and love they have shown Debbie over the years.
Surviving are her mother, Christine C. (Winters) Corbin and Gene Kidder , South Beaver Twp; two brothers, Timothy L. (Tammy) Corbin, South Beaver Twp., Wayne L. "Skip" Corbin, Concord, NC; a sister, Annette C. Corbin, Memphis, TN; and four nephews.
She was preceded in death by her father Wayne P. Corbin in 1993 and a brother, Ronald P. Corbin on Oct.04, 2009.
Friends will be received on Friday from 2-4 PM and 6-8 PM in the Campbell's Chippewa Funeral Home, 2618 Darlington Road where funeral services will be held on Saturday at 10:00 AM with Pastor Bob Saul officiating.,
Debbie's family would like to thank the New Brighton Lions Club for sending Debbie every year to the Pennsylvania Lion Beacon Lodge Camp.
Memorial contributions may be made, if desired, to the New Brighton Lions Club, Club # 6362, P.O. Box 151, New Brighton, PA 15066.
Condolences may be left on-line on our website at www.campbellfuneralhomes.com